Email verification makes sure that your account is actually owned by you, this prevents spam, hacks and privacy violations.

Here's how to verify your email address:
After you've created a POINT account or Added an email you'll be send a verification email that looks like this: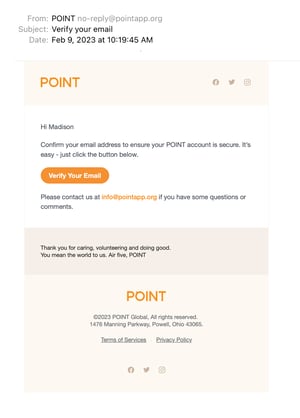 Step 1. Click "Verify your email"
Step 2. Your account will verified and you'll be automatically taken to a page that says "You're in". Once there you can go to your account on the web or mobile app.

Note: If you have trouble accessing your account after you've verified your email you can open and close your app or reload your web browser to force the system to reload and recognize your newly verified email.




Want to resend a verification email?

From the mobile app:
Step 1. Tap the "Profile button", that looks like a person on the right hand bottom corner of your app menu
Step 2. Now on your Profile, tap the "gear icon" indicating Settings in the upper right hand corner
Step 3. Tap the "Email Settings" option the Settings List
Step 4. Tap the triangle on the right hand side of your email.
Step 5. Two buttons will appear, tap "Verify" and our system will send you a new verification email.

From the web platform:
Step 1: Make sure you're in the Volunteer View of your account. If you're a volunteer, no worries you're automatically in that view. If you're an admin, select your organization name in the left hand side menu, and toggle to "Return to Homepage", once there click "Switch to Volunteer View", this is your personal account.
Step 2: Select "Email Settings" in the left hand side menu
Step 3: There you'll see all of your emails associated with your POINT account, click the orange button that says "Verify" next to the email you wish to verify and the email will be resent.
What if I don't receive a verification email?
First, check your spam and promotional filters for our email.

Some corporate email addresses block outside emails like ours. If you're not receiving POINT emails from a corporate email address, ask your IT team to "whitelist" all emails from pointapp.org or add an additional email and change your primary email to the new email address.

Additionally, sometimes email providers like Outlook have blocked communications. We recommended Google emails.


Questions? Email us at support@pointapp.org.