Many nonprofits love to use POINT as their volunteer CRM (Customer Relationship Manager) to keep track of volunteer data. Adding notes to volunteer profiles is a great way to add additional information for each volunteer
Volunteer profile for Core account
Use the left side menu on your admin dashboard and click "People" then "Contacts"
Find the volunteer you want to add documents to, and then click on their name to be taken to their volunteer profile. Chose the "Notes" tab.
From here, click the orange button on the right side that says "Create Note".
Fill out the note information and click the orange "Save" button



*You can only create edit or delete one note for account with Core plan
Attachment documents to note for volunteer profile are included in the POINT Pro plan
What is POINT Pro? Pro is a paid POINT subscription for organizations that want additional features not found on our free Core plan, such as: Program Management, Ongoing Events, Document Storage, and more cool features. Learn more about the Pro plan here.
If you currently have POINT Core, you can upgrade your organization to our POINT Pro plan at any time. Just go to your left side menu and click "Settings" then "Subscription".
Volunteer profile for Pro account.

Add a note about the volunteer or attach a Document to a volunteer profile
You can create an unlimited number of notes for the Pro account. Add a file to a note and even choose its color.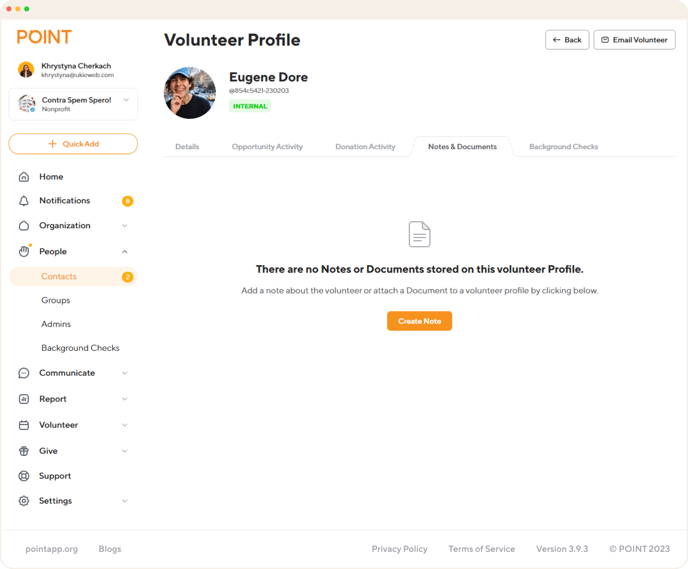 How to create create note?

Once you're on the volunteer's profile, click on the "Notes & Documents" tab. From here, click the orange button on the right side that says "Create Note".
This leads you to the Create Note page, where you need to fill out the title, note information, select a color, and then you can add an attachment (.JPG, .PDF, .PNG) if you want.
When you're done, click the orange "Save" button at the bottom of the page to upload the document or note to their profile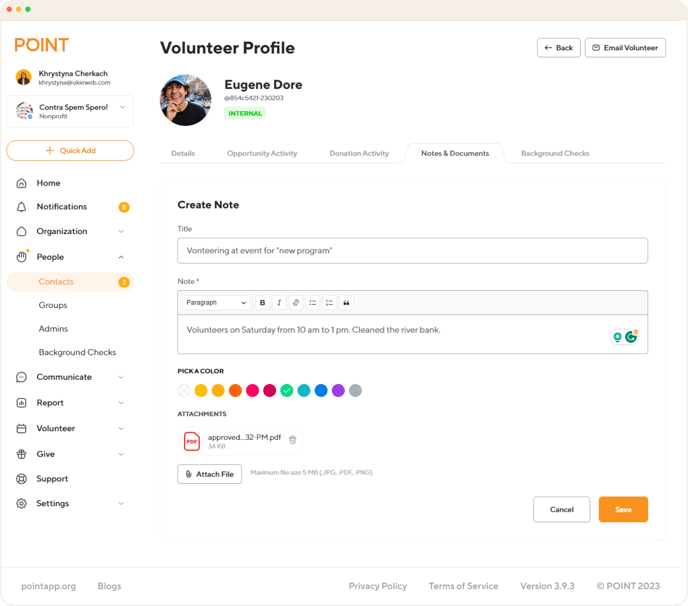 Example Volunteer's Notes & Documents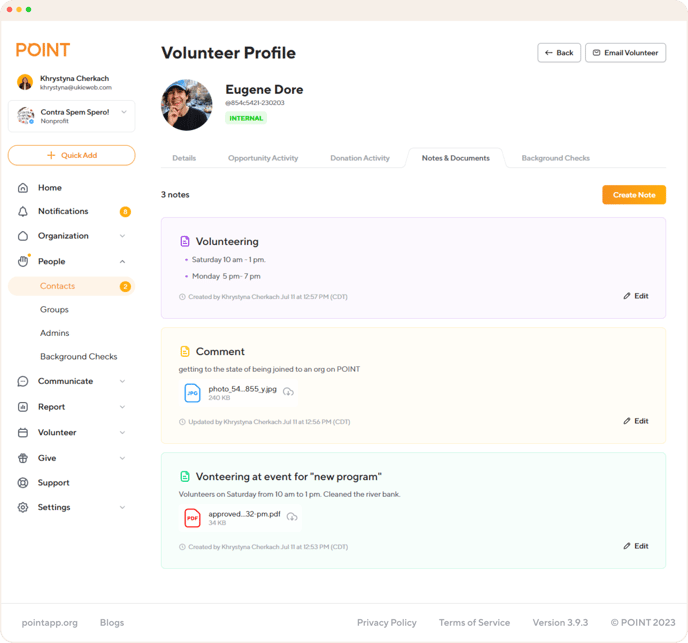 Remember:
Only admins from your account will be able to see the notes you add to a volunteer's profile.
Any admin on your organization's POINT account can access the note and edit.
A volunteer user will not see any notes.


Read more about how to add documents to volunteer profiles here


Have questions? Need help? We've got you. Use the orange chatbox on the dash or email us at support@pointapp.org.