Managed Volunteers are POINT volunteer accounts that are created and fully managed by your organization's admins. Remember - these accounts cannot be accessed by volunteers.
1. Use the left side menu to find "People" then "Contacts"
2. Hit "Actions" in the upper right hand corner, and select "Add Managed Volunteer"
3. You must fill out their first name, last name, gender, state, and give them a username. Other information is optional to add. Once you're done, click the "Add Volunteer" button. Now the Managed volunteer account has been created and you will be taken to their volunteer profile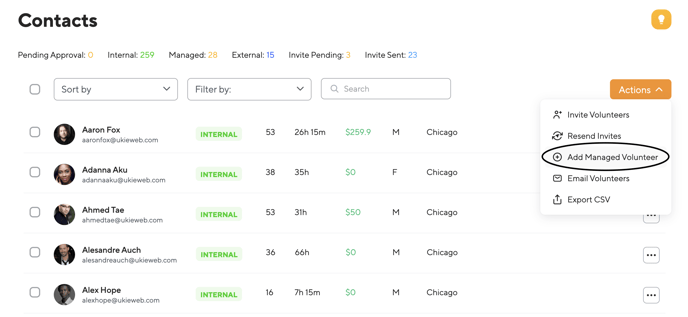 Note: Since volunteer accounts cannot be merged in POINT, Managed Volunteers are accessible by your nonprofits admins. Volunteers will not have access or will be able to claim these accounts.

If you are trying to onboard your volunteers, invite them to join POINT. Here's how to do that.
How to add managed volunteer (see video)
Adding a Managed Volunteer to an Event

From the event check-in page, click Actions > Assign Spot. This will fill a spot on the event and add that volunteer's name to the event check-in.
Note: As this profile only exists on your dashboard, the volunteer will not receive push notifications or event reminders. This action will fill a spot on the event and add stats to your Event Stats page.
Why do I need birthday and gender?
Adding the birthday and gender to a manually added volunteer will keep your stats and overall volunteer demographics accurate. If you don't know the volunteer's birthday, entering your best guess will help with those stats.
You have the ability to add other volunteer data if you'd like to store it in your system, like volunteer email and address.



Questions? Email us at support@pointapp.org.